Welcome Sallee Promotions Inc!
Looking for promotional products?
YOU'VE COME TO THE RIGHT SITE. WE ARE PROMOTIONAL PRODUCTS EXPERTS WHO ARE COMMITTED TO YOUR SUCCESS.
Whether you are looking for a specific item or just browsing for ideas, our site is your one-stop shopping source. From fun items to the traditional, you can easily search for some of the hottest items on the market, and we are here for you 24 hours a day - 7 days a week. Quickly and easily search our vast database of products for items to:
Improve traffic at trade shows
Motivate staff
Thank a customer
Increase safety awareness
When you find what you are looking for, please contact us so we can discuss your needs in greater detail, or use our shopping cart to submit your order - our secure check out makes it safe, easy and convenient. If you are just browsing, click on our 'request for more information' option and we'll get back to you.
Featured Item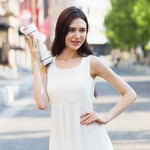 Oasis Multipurpose Water Bottle
This premium multipurpose electronic 19 oz. water bottle features a transparent colored inner container, a smartphone holder, a heavy duty body and a wireless Bluetooth speaker. The speaker is removab...
$22.80 - $25.00
Featured Blogs
A national railroad wanted to promote their new train and how it was the best "green alternative" to air shuttle travel. The Save-A-Bottle was the perfect match! The bottle is made of super durable Ea...

"The future's so bright, I gotta wear shades." - Timbuk 3Sunglasses have been and always will be one of the most popular promotional products. Why? Because practically everyone wears...

If you want to give your brand a modern and fresh new identity try throwing some cutting-edge tech gadgets into your marketing mix. The wave of wireless charging options, portable speakers, and wearab...
What Our Customers Are Saying

Nate is all about customer service, he typically delivers the product himself and always with a personal touch.
Matt Catanzarite -- Assistant Principal
Edison Colliegate High School (Punta Gorda Campus)
div { height: 100px; background-color: red; background-image: linear-gradient( red, #f06d06 ); }