Welcome Sallee Promotions Inc!
Looking for promotional products?
YOU'VE COME TO THE RIGHT SITE. WE ARE PROMOTIONAL PRODUCTS EXPERTS WHO ARE COMMITTED TO YOUR SUCCESS.
Whether you are looking for a specific item or just browsing for ideas, our site is your one-stop shopping source. From fun items to the traditional, you can easily search for some of the hottest items on the market, and we are here for you 24 hours a day - 7 days a week. Quickly and easily search our vast database of products for items to:
Improve traffic at trade shows
Motivate staff
Thank a customer
Increase safety awareness
When you find what you are looking for, please contact us so we can discuss your needs in greater detail, or use our shopping cart to submit your order - our secure check out makes it safe, easy and convenient. If you are just browsing, click on our 'request for more information' option and we'll get back to you.
Featured Item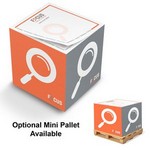 Stik-Withit® Full Size Note Cube® Note...
Square, Adhesive Back, Sticky Back, Reposition, Adhesive Note, Sticky Note, Desktop Accessory, Ultra Adhesive, Custom, Self Stick, Memo Paper, Notepaper, Office Supply. Complies with Prop 65. 3 3/8"...
$5.67 - $6.75
Featured Blogs
Description: Mini Flip Pad Jotter Industry: Financial What it was purchased for: An investment firm wanted to promote their new financial blog to their existing customers with a memorable branded it...

If you're looking for some awesome gear to support your team—or for some killer merch for your team's fans—we've got you covered with these awesome promotional products f...

Many people agree that there is a high demand to diversify the workforce with young specialists bearing fresh ideas and new perspectives. Furthermore, we need to prepare this growing generation for le...
What Our Customers Are Saying

Nate was great! He fulfilled our every need, and exceded our expectations. We highly recommend Sallee Promotions!
Justin Woodcox -- East Lee
Basketball Coach
div { height: 100px; background-color: red; background-image: linear-gradient( red, #f06d06 ); }