Welcome Sallee Promotions Inc!
Looking for promotional products?
YOU'VE COME TO THE RIGHT SITE. WE ARE PROMOTIONAL PRODUCTS EXPERTS WHO ARE COMMITTED TO YOUR SUCCESS.
Whether you are looking for a specific item or just browsing for ideas, our site is your one-stop shopping source. From fun items to the traditional, you can easily search for some of the hottest items on the market, and we are here for you 24 hours a day - 7 days a week. Quickly and easily search our vast database of products for items to:
Improve traffic at trade shows
Motivate staff
Thank a customer
Increase safety awareness
When you find what you are looking for, please contact us so we can discuss your needs in greater detail, or use our shopping cart to submit your order - our secure check out makes it safe, easy and convenient. If you are just browsing, click on our 'request for more information' option and we'll get back to you.
Featured Item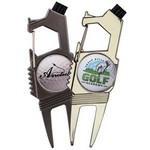 Golf n' Brew 2-Prong Divot Repair Multi-...
Golf divot repair multi-tool with dual prong forks. Includes polished black nickel finish with textured grip. Dual function belt clip with bottle opener. Integrated cigar holder, golf club groove clea...
$4.25 - $4.70
Laser Level with Tape Measure
Featured Blogs
Product: Gel Stress Toy Client: Health Food Store What it was purchased for: As a gift to reward customers for spending over a certain amount. Why it worked: The gel stress toy which, unlike the fo...

Description: Beach Ball Industry: Tourism What it was purchased for: The customer was looking for a low-cost, family-friendly summer giveaway item to promote their city's summer tourism program in t...

Description: Mini Flip Pad Jotter Industry: Financial What it was purchased for: An investment firm wanted to promote their new financial blog to their existing customers with a memorable branded it...
What Our Customers Are Saying

Nate is all about customer service, he typically delivers the product himself and always with a personal touch.
Matt Catanzarite -- Assistant Principal
Edison Colliegate High School (Punta Gorda Campus)
div { height: 100px; background-color: red; background-image: linear-gradient( red, #f06d06 ); }