Welcome Sallee Promotions Inc!
Looking for promotional products?
YOU'VE COME TO THE RIGHT SITE. WE ARE PROMOTIONAL PRODUCTS EXPERTS WHO ARE COMMITTED TO YOUR SUCCESS.
Whether you are looking for a specific item or just browsing for ideas, our site is your one-stop shopping source. From fun items to the traditional, you can easily search for some of the hottest items on the market, and we are here for you 24 hours a day - 7 days a week. Quickly and easily search our vast database of products for items to:
Improve traffic at trade shows
Motivate staff
Thank a customer
Increase safety awareness
When you find what you are looking for, please contact us so we can discuss your needs in greater detail, or use our shopping cart to submit your order - our secure check out makes it safe, easy and convenient. If you are just browsing, click on our 'request for more information' option and we'll get back to you.
Featured Item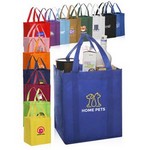 Reusable Grocery Tote Bags (13"x10&...
This is a large open main compartment tote bag. Inner bottom board to prevent any wear and tear. 20"(L) x 1.25"(W) reinforced straps. Recycle #5. Great for shopping or groceries with (Plastic) bottom ...
$1.52 - $2.21
Featured Blogs
A realtor wanted to give a thank-you gift to those who purchased a new home with them. They chose the LED Carbon Fiber Aluminum Flashlight. They printed their logo along with the tagline, "We wil...

Taking a lunch break is important. It's a time when you can step away from your computer and have a little "me" time. Your lunch break should be a time when you can unplug and stop t...

Product: Custom Malibu Sunglasses Industry: Automotive/Banking What it was purchased for: A car company wanted to find a product that would promote their brand at a local college BCS Bowl Games. Ho...
What Our Customers Are Saying

Don't even bother going anywhere else. Everyone goes with Sallee Promotions eventually. Save yourself the agony and go with the best first.
Trent Holt -- Athletic Director
Palmetto Ridge High School
div { height: 100px; background-color: red; background-image: linear-gradient( red, #f06d06 ); }